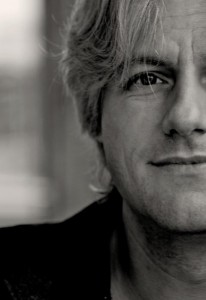 'Since I first moved to Berlin in 1996, I've been collaborating on international contemporary jazz projects – with Brazilian, Afro-Cuban, Arab and Anatolian musicians. My work has been greatly influenced by my experiences of building musical bridges between jazz and the music of South America and the Middle East. My 'classical' and 'new music' compositions are also created from this musical perspective.'
Pianist and composer Rolf Zielke's music is a reflection on contemporary jazz, Latin and Brazilian jazz, and music of the 'Middle East'.
'Technically he knows all the tricks… The man from Berlin presents himself as a pianist who is able to surprise the overcrowded trio-genre with a fresh, new sound.' (Jazz thing)
'The listener experiences piano-trio-jazz of the highest order: Zielke, winner of many awards and a man who has worked with musicians from many cultures, presents four top-class compositions of his own (…) Because of these compositions and the musicians' intuitive understanding this brilliant performance is an exciting masterpiece from beginning to end.' (Jazzpodium)
Since the mid-eighties, Rolf Zielke has been an active member of the international jazz scene, presenting his own projects and accompanying renowned artists such as Charlie Mariano. Through years of intensive concert touring in Germany, Europe, Asia, Africa and the USA he has developed an individual but international sound.
'As long as there are musicians like Rolf Zielke and Herbie Hancock, who display such far-sightedness during their concerts, one needn't fear the lack of innovation in the jazz scene.' (Hannoversche Allgemeine Zeitung)
International Festivals:
French German Jazz Series, Washington DC (USA), 'Dedication to Maestro Festival', Hermitage, St. Petersburg, (Russia), 'Tear Down that Wall', Tijuana (Mexico), European Festival of Culture in Algier (Algeria), German-Kurdish Culture Days, Erbil (Iraq), music festivals in Bejing, Nanjing and Fuzhou (China),  Interna­tional Jazz Festival – lasi (Rumania), 'Ohrid Summer Festival' (Macedonia), 'Jazz on the Oder' – Wroclaw, International Jazz Fair – Poznan, Dialogue of Cultures, Lodz, 'Mozartiana', Gdansk (Poland), 'Martinů Festtage', Basel (Switzerland), 'Rheingau Musikfestival', 'Schleswig Holstein Musikfestival', 'Jazztage' Hannover, 'Masala' World Music Festival Hannover, 'Jazztime' Hildesheim (Germany)
Concerts / CD-Recordings with:
Charlie Mariano, Thomas Quasthoff, Mike Stern, Ed Motta, Hendrik Meurkens, David Friedman, Peter Weniger, Ed Schuller, Bireli Lagrene, Jiggs Whigham, Benny Bailey, Red Holloway, Scott Hamilton, Krzesimir Debski, Stacy Kent, Judy Niemack, Sergej Starostin ('Moskow Art Trio'), Kaigal-Ool Khovalig ('Hun Huur Tu'), Nahawa Doumbia, Urna Chahar-Tugchi, Eda Zari, 'DSO' – Deutsches Symphonie-Orchester Berlin, 'RIAS'-Big Band Berlin …
Tours: 
USA (New York, Texas, Florida, Washington DC), Cuba (Havana), Mexico (Mexico City, Tijuana, Ciudad Juárez), Africa (Algeria, Cameroon), Asia (China, Turkey, Azerbaijan, Jordan, Iraq) and in 15 European countries (including concerts in London, Madrid, Zurich, Rome, Warsaw, St. Petersburg and Istanbul)
Awards:
– 'Jazzpodium Niedersachsen', 13 awards
– Berlin Senate, 'Studioprojekt', 3 awards
– 2011 German UNESCO Commission Sonderpreis 'Hasretim' (comp. Marc Sinan), Dresdner Sinfoniker
Teaching Activities:
Rolf Zielke currently teaches at the the 'Jazz Institute Berlin' (JIB), the 'Hanns Eisler' School of Music Berlin and the 'University of the Arts (UdK)
Rolf Zielke is the author of 'Global Groove': AComplete Guide to Playing in Odd Meters for All Instruments (Advance Music / Schott)
CDs / selection:
2021 – 'Beaches In Your Soul' 2018 – 'Triometrics' feat. Stephan Braun
2016 – 'Hot Impressions Vol.2' feat. Peter Weniger
2013 – 'Hasretim' (ECM) Dresdner Sinfoniker with guest musicians
2011 – Duo Rolf Zielke – Mustafa Boztüy
2009 – 'Handel Jazz' feat. Stephan Abel / Rhani Krija
2004 – 'Hot Impressions' feat. Charlie Mariano
2002 – 'Exosphere' feat. Mike Stern
2001 – 'Rolf Zielke Trio' feat. Mustafa Boztüy
1996 – 'BLOW UP' feat. Ulita Knaus / Krzesimir Dębski
Compositions for film and theatre:
– 'Deszcz' ('Rain' 1990) and 'Ślub Krawca' ('The Tailor's Wedding' 2000) with polish filmmaker Elżbieta Wąsik.
– 'Hexentanz und Teufelsschwanz' ('Witches' Dance and the Devil's Tail', 2003), a musical written for an orchestra, chorus and ballet.
In 2006, Rolf Zielke led the Jazz Art Ensemble, based in Lower-Saxony.