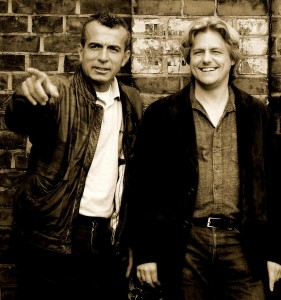 Rolf Zielke and Mustafa Boztüy have been working together for over 30 years, primarily as a duo.
During this time, they have found a unique sound language and performed as a duo in Turkey, Germany, Jordan and Iraq – to much acclaim.
Contemporary jazz and Anatolian music come together naturally and effortlessly, transporting the listener to a soundscape that is both surprising and refreshing. Their music thrives on this creative collaboration. On piano and percussion, they create a high quality of musical unity with a breathtaking drive that transcends the boundaries of jazz rhythm conventions
Mustafa Boztüy is one of the few percussionists to have developed traditional oriental playing techniques into a cross-cultural, contemporary artistic form. His masterful technique on the darbuka, bendir and udu is almost unrivalled, and his musical language is unique. The combination of virtuosity, unrestrained pleasure in making music and dreamlike interplay make this an irresistible listening experience.
"… The music played by the duo was particularly appealing to the audience. It was clean, free from useless gimmicks and artefacts, with impeccable timing and rhythm shifting that kept everyone focused, often integrating catchy oriental phrases …"
(The Jordan Times Oct.09)
"The experience exceeded all expectations … not only was the high quality of the music impressive, but also the musical passion, which was instinctively conveyed to the audience." (Nordbayrischer Kurier, 11.11.2008).