Global Groove – a complete guide to Odd Meters, advance music (ADV 13288)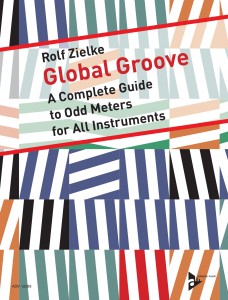 The purpose of this book is to open a route to using 'uneven' rhythms for improvising musicians, arrangers and composers. In order to achieve this, the progression from traditional music to Contemporary Jazz is explored.
All the time-signatures from 5/8 to 25/8 are presented and analysed (most of them in several versions). Exercises and explanations with scores and audio make it possible to learn complex rhythms and arrangements, to gain mastery of these and to stimulate creativity.
Content:
43 titles; recorded in duo: piano / percussion; Rolf Zielke / Mustafa Boztüy
17 traditional tunes (from Turkey, Bulgaria and Albania)
14 Jazz compositions by Rolf Zielke
7 Jazz Standards arranged as 'Odd Meter' versions
5 polymetric studies
'Feeling comfortable playing and improvising in so called 'odd' meters has always been a tremendous challenge for western musicians. Rolf Zielke has found a method using simple explanation and extremely musical examples which turn challenge into pure joy and satisfaction.
His long teaching experience and years of thinking about this avenue of expression comes to fruition with this publication."
Prof. David Friedman, UdK, Berlin